Client Billing Services Specialized for the Legal Profession
Sierra ProBill can help you improve your cash flow and your bottom line.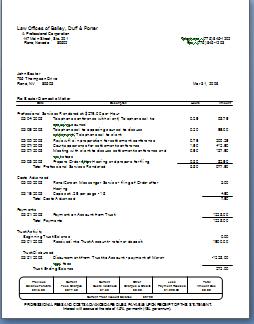 In the legal profession, where time is money, you need the most reliable and cost effective method of billing available. Sierra ProBill is the solution to your billing problems.
Your clients will receive monthly billing statements. No more erratic billing cycles. Your staff will be free to perform those tasks that require their valuable skills. No longer will your priority tasks be put on hold due to billing. We have the flexibility to blend into any existing office system. You will receive detailed management reports each month, including an accounts receivable ledger and staff time reports.
Our clients will tell you they save valuable time and money every month using Sierra ProBill. We want you as a client, and we will take the extra steps necessary to meet all your billing needs. Please feel free to call or email us with any questions you may have. References gladly provided upon request.
Insource us, we want to be part of your team.